Power powder for your performance
100% C8 fatty acids from coconut
Versatile application
Ketogenic power source
Delivery time: 3-6 days within Europe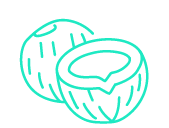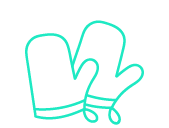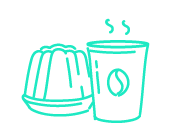 Goes well with puddings,
smoothies & coffee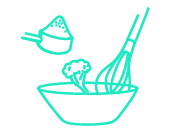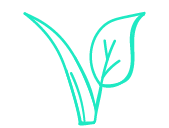 NEXT LEVEL ENERGY WHENEVER YOU NEED IT
ROCKET C8 MCT POWDER - full keto power ahead!
Everyday hero? High performer? Professional athlete? The ketogenic diet is suitable for anyone who wants to get more out of their life. As "Keto" provides you with the right energy when you need it, whether for your mental or your athletic performance.
But what are ketones actually? The so-called fat bodies from medium-chain fatty acids (MCT) can be used by your body directly as fuel. Then in the liver these are converted into another energy unit, the so-called "ketone body".
The great thing about it? Instead of carbohydrates, your body now uses fat as a fuel and your blood sugar level remains constant. That means: bye bye sugar crash and afternoon slump. Bake it. Mix it. Drink it.
Our ROCKET C8 MCT POWDER allows you to benefit from the power of ketones very easily, does't matter if you are a keto expert or not.
MCT goes mainstream! Because while you cannot heat the typically used MCT oil and only use it in the liquid state, the powder is versatile in the kitchen and suitable for everyone.
Whether in morning cereals, coffee or as a sweet waffle in between - it has never been easier to integrate MCT into your everyday life.
MCT-powder of medium-chain triglycerides and fibre
(250g per can)

ROCKET C8 MCT-POWDER contains: 70% MCT oil (medium-chain triglycerides from coconut; composition of fatty acids: 100% caprylic acid) and 30% acacia fibers
Nutrition table ROCKET C8 MCT Powder
| | |
| --- | --- |
| Nutritional value | per 100 g |
| Energy value (kcal/kJ) | 684/2862 |
| Fat (g) | 70 |
| - of which saturated fatty acids | 70 |
| Carbohydrates | 0 |
| - of which sugar | 0 |
| Dietary fibre (g) | 25 |
| Protein (g) | 0,3 |
| Salt (g) | 0.135 |
Usage:
Mix 1-2 heaped teaspoons into your porridge, coffee or smoothie. As ROCKET C8 MCT-POWDER is tasteless and can be heated up to 180 degrees, it is also suitable for baking e.g. bread, cakes, or waffles.
Note:
Food supplements don't replace a balanced and varied diet or a healthy lifestyle. The recommended daily intake must not be exceeded. Keep out of the reach of children.
Post workout fuel:
In combination with our performance shake NIGHT MODE you supply your muscles with nutritious plant proteins and your cells with ket fuel.
Storage:
Make sure that you always store the product dry and cool.
Our tip:
MCT POWDER goes perfect for breakfast in your coffee: Upgrade it with ROCKET C8 MCT-POWDER and start the day with energy. After-Workout-Fuel: In combination with our Performance Shake NIGHT MODE you supply your muscles with valuable vegetable proteins and your cells with keto fuel.
FOR WHOM IS ROCKET C8 MCT POWDER SUITABLE?
The BRAINEFFECT ROCKET C8 MCT POWDER was developed especially for athletes, high performers, office athletes, and everyday heroes with high demands.
It gives you the energy kick for all your goals. Do you want to work on your new PB? Then ROCKET C8 MCTPOWDER is your new secret weapon. Ketones provide you with energy and support your endurance.


HOW DOES ROCKET C8 MCT POWDER GIVE ME ENERGY?
Our brain uses about 50% of our daily energy requirements. To produce the necessary power in our cell power plants, you need a basic material. This can either come from glucose (sugar) or from ketones.
To maintain optimal performance over a longer period of time, your sugar level should be stable. Ketones are an alternative power source.
Caprylic acid (C8) is the fatty acid of choice. It is converted to so-called ketone bodies in the liver and thus provides you with the desired energy boost.
HOW DO I USE THE ROCKET C8 MCT POWDER?
You need energy in the morning or a push in the afternoon? Then ROCKET C8 MCT POWDER can give you the boost you need.
But it is also suitable for your athletic performance because it supplies your cells with the power so necessary for endurance sports.


CAN I LOSE WEIGHT WITH MCT PRODUCTS?
A balanced diet should always provide a certain amount of fats. Here, the medium-chain fatty acids are considered particularly valuable, as the body can break them down more easily and convert them into energy.
When taking MCT, the ketones formed in the process are immediately used for the production of energy and performance and are not stored and incorporated as fat as with the intake of carbohydrates. This can be very helpful in a diet and the associated weight reduction. However, MCT oil alone does not make you lose weight
Only those who eat a balanced diet and run a calorie deficit will lose weight. However, ROCKET C8 MCT POWDER can support you especially in a low-carb diet and serve as a preferred source of energy.
More Information

| | |
| --- | --- |
| Geld-Zurück-Garantie Satz | with money-back guarantee |
| Inhalt | Content: 250 g |
| Grundpreis Angabe | EUR 9,96 / 100 g |
| DOSAGE FORM | Bars & Snacks |
| DIETS | Gluten-free, Ketogenic, Lactose-free, Low Carb, Vegan, Vegetarian |
| YOUR GOALS | Energy |
| Bestellung ab Donnerstag 10 Uhr bis Montag 16 Uhr | 2-3 days |
| Lieferzeit | 2-3 days |