Your fall asleep spray with melatonin
With 1 mg of melatonin to help you fall asleep quickly
30 ml bottle corresponds to 1 month's ration
Easy to use thanks to the spray head
Delivery time: 3-6 days within Europe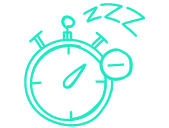 Reduced time to sleep
thanks to melatonin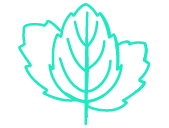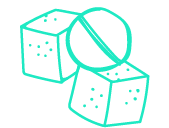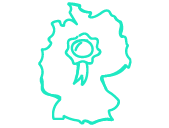 Developed and
tested in Germany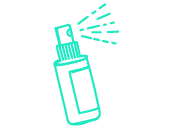 Simply spray
into the mouth
FALL ASLEEP FASTER
WITH MELATONIN
Secure your sleep

At night the body shuts down, processes the newly gained information and regenerates. However, blue light from screens, late exercise, shift working, or stress can disturb your sleep at night. This is exactly why we developed the first SLEEP SPRAY with the natural sleep hormone melatonin. One puff contains 0.125 mg melatonin and has been proven to shorten the time needed to fall asleep. The best thing about it: thanks to the simple dosage as a spray, you decide for yourself how much melatonin you want to absorb and thus find your perfect dosage for a gentle and quick sleep experience. #SleepWell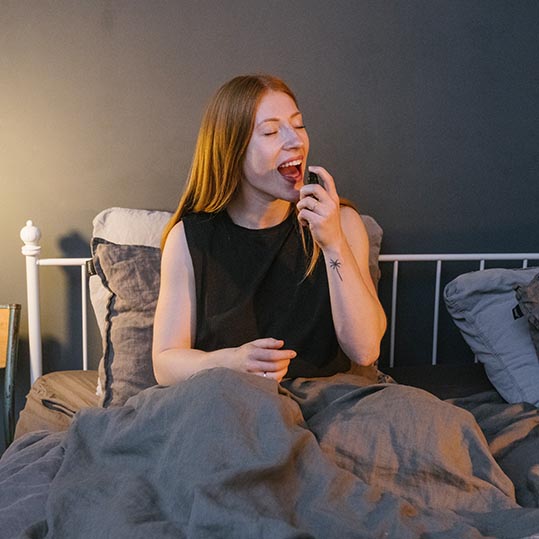 Melatonin - that's behind it

The natural sleep hormone is produced daily by the pineal gland in your brain. The crucial factor here is the natural light-dark rhythm of the day. In the evening hours, the body starts producing this hormone. But not everyone has the necessary amount of melatonin that is necessary for a restful sleep. We'll help you twice: SLEEP SPRAY with melatonin actively lets you fall asleep faster, while our digital SLEEP COACH gives you all the tips, tricks and hacks for a sleep-inducing evening routine. Get the power combo and #OwnYourNight.


Nutritional supplement with melatonin, plant extracts and sweeteners
(1 bottle equals 30 ml)
SLEEP MELATONIN SPRAY contains: water, sweetener: sorbitol, glycerine; ashwagandha extract, acidifier: citric acid; lavender extract, flavour: lemon, mint, preservatives: sodium benzoate, potassium sorbate; melatonin, pyridoxine hydrochloride (vitamin B6)


Ingredients SLEEP MELATONIN SPRAY
Ingredients

per spray stroke

% NRV*

Melatonin

0,125 mg

**

Ashwagandha-extract

0,65 mg

**

Lavender-extract

0,216 mg

**

Vitamin B6

0,026

15 %

Ingredient per daily dose

8 spray strokes

Melatonin

1 mg
* Percentages for nutrient reference values (NRV) according to Regulation (EU) No 1169/2011 (8400 kJ/2000 kcal)
** No nutrient reference values (NRV) available  
Dosage:

8 sprays (= 1 mg melatonin) 20 minutes before bedtime. It can be started with half the dosage or less. SLEEP SPRAY can also be used after brushing your teeth as it does not contain sugar and has a fresh mint taste.
Note:

Food supplements do not replace a balanced and varied diet or a healthy lifestyle. Consume no more than the recommended daily intake. Keep out of the reach of children. Do not use it immediately before driving.

Pregnant women and nursing mothers should refrain from taking melatonin, as the study situation does not allow an assessment of the effects of long-term intake.
WHO IS THE MELATONIN SPRAY SUITABLE FOR?

Have you had a stressful day and can't fall asleep? Have you been working out tonight? The melatonin spray is suitable for people who have difficulty falling asleep and want to shorten the time it takes for them to fall asleep. Furthermore, SLEEP SPRAY with natural melatonin is suitable for shift workers whose natural day-night rhythm has been shifted. They sometimes need to sleep at unusual times (e.g. in the morning), which is not always easy. Long-distance travellers can also use SLEEP SPRAY to return to their natural biorhythms more quickly and to reduce subjective feelings of jet lag. The melatonin spray is also interesting in principle for athletes who have to fight against increased cortisol levels in the evening (due to late training sessions or competitions), in order to get to sleep faster. SLEEP SPRAY is not suitable for children or pregnant women.


WHEN SHOULD I TAKE SLEEP SPRAY?

SLEEP SPRAY should be used about 20 minutes before bedtime. You can also use SLEEP SPRAY after brushing your teeth, because it does not contain sugar.


HOW DO I ADMINISTER THE CORRECT DOSE OF SLEEP SPRAY?

SLEEP SPRAY can be used and dosages administered individually and completely as required. We recommend taking 0.5 mg to 1 mg of melatonin at bedtime to achieve the desired effect. 1 mg melatonin corresponds to 8 spray doses. When used in this amount, SLEEP SPRAY lasts for 1 month.
DOES THE MELATONIN SPRAY HAVE ANY SIDE EFFECTS?

SLEEP SPRAY contains the same main ingredient as our SLEEP capsules: melatonin. Melatonin is 100% safe and can be taken daily. There are no habituation effects. 1 mg of melatonin corresponds to the content found in 60 pistachios. Unlike chemical sleeping pills, it is neither addictive nor it is possible to overdose on it. Furthermore, melatonin does not affect the natural REM phases in your sleep cycle. In other European countries and in the US, melatonin has been available as a gentle sleep aid for years and has been used millions of times by athletes, office professionals, and everyday heroes. Side effects at such low doses as 0.5 to 1 mg per night are not yet known.


WHAT IS THE ADVANTAGE OF A MELATONIN SPRAY OVER CAPSULES?

As the melatonin spray is administered orally, the active ingredient can be absorbed directly through the mucous membranes. This is a great advantage over melatonin capsules, which first dissolve in the stomach and have to be digested. A sleep spray does not have to take the long detour through the digestive system, meaning that a faster onset of the effects can be expected.
More Information

| | |
| --- | --- |
| Geld-Zurück-Garantie Satz | with money-back guarantee |
| Inhalt | Content: 30 ml |
| Grundpreis Angabe | EUR 76,33 / 100 ml |
| DOSAGE FORM | Oils & Sprays |
| DIETS | Gluten-free, Ketogenic, Lactose-free, Low Carb, Vegan, Vegetarian |
| YOUR GOALS | Sleep & Recovery |
| Bestellung ab Donnerstag 10 Uhr bis Montag 16 Uhr | 2-3 days |
| Lieferzeit | 2-3 days |