The intelligent sleep aid with melatonin
With 1 mg of melatonin to help you fall asleep faster
Natural ingredients, without unnecessary additives
Melatonin can relieve feelings of jet lag
Delivery time: 3-6 days within Europe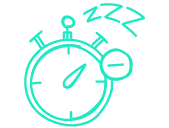 Melatonin to fall
asleep faster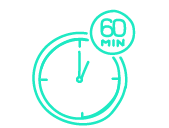 Take 60 min
before going to bed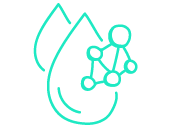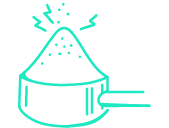 With magnesium
for your nerves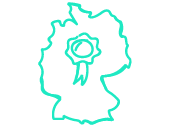 Developed and tested
in Germany
SLEEP, RECOVER, OWN YOUR DAY
Being well-rested in the morning, wake up before the alarm clock and start the day full of energy? Yes you can! SLEEP with melatonin helps you to shorten the time to fall asleep so that you are ready for the day the next morning. Because sleep at night is the foundation for ideal mental performance and your well-being during the day. Melatonin - our explanation
Melatonin is responsible for your day-night rhythm and is released by your body as soon as it gets dark. With an appropriate concentration in the blood, it ensures that you can fall asleep and sleep through the night.
Do you often have trouble falling asleep? Stress, shift working and jet lag are messing up your sleep rhythm? SLEEP combines tested natural ingredients such as magnesium, passion flower and lemon balm for your evening routine.
It has been proven that thanks to the natural sleep hormone melatonin you can reduce the time you need to fall asleep. Bonus: with the purchase of SLEEP you get exclusive access to our digital SLEEP COACH.
Get expert tips on the right evening routine, perfect sleep and a life in which you wake up relaxed and full of energy in the morning. #StartTheSleepRevolution
Nutritional supplement with melatonin, magnesium and plant extracts (60 capsules per pack)
SLEEP contains: magnesium, lemon balm leaf extract (Melissa officinalis), passionflower extract (Passiflora incarnata), vegan plant capsule, microcrystalline cellulose (plant filler), black pepper extract, melatonin
Ingredients SLEEP
Ingredients

per 2 capsules
(daily dose)

% NRV*

Melatonin

1,0 mg

**

Magnesium

57,6 mg

15 %

Lemon balm extract

250 mg

**

Passionflower extract

250 mg

**

Black pepper extract

11 mg

**

- of which piperine

10 mg

**
* Percentages for nutrient reference values (NRV) according to Regulation (EU) No 1169/2011 (8400 kJ/2000 kcal)
** No nutrient reference values (NRV) available  
Dosage:
Take 2 capsules 90 to 60 minutes before bedtime with water. To reduce jet lag: Take 2 capsules before going to bed on the first day of your journey and 2 capsules before going to bed at your destination with water.
Usage:
SLEEP can be taken both situatively and over a longer period of time. The effect occurs directly with the first ingestion. A longer use is possible. There is no known habituation process. One monthly package contains 60 capsules.
Our tip:
SLEEP is ideally complemented by MOOD for daily well-being or FOCUS with B5 for mental power during the day.
Note:
Food supplements do not replace a balanced and varied diet or a healthy lifestyle.
Consume no more than the recommended daily intake. Keep out of the reach of children. Do not use immediately before driving.
Pregnant women and nursing mothers should refrain from taking melatonin, as the study situation does not allow an assessment of the effects of long-term intake.
FOR WHOM ARE BRAINEFFECT SLEEP MELATONIN CAPSULES SUITABLE FOR?
BRAINEFFECT SLEEP melatonin capsules are suitable for you if you have difficulties falling asleep and a lack of power the next day.
By taking our SLEEP capsules you supply your organism with the sleep hormone melatonin, which helps you to fall asleep quickly in the evening. Melatonin deficiency is a common cause of sleep problems.
Especially those who work in front of the screen or at night under artificial light can become acquainted with an insufficient supply of the body's own substance melatonin.
But also athletes and frequent travelers sometimes feel the consequences of melatonin deficiency. The SLEEP melatonin capsules are suitable for you if you are looking for a vegan melatonin supplement. Our melatonin capsules are free of animal ingredients and therefore suitable for any diet.


HOW DO THE BRAINEFFECT SLEEP MELATONIN CAPSULES HELP ME TO REDUCE MY TIME TO FALL ASLEEP?
By taking the SLEEP melatonin capsules, you are delivering melatonin to your body exactly when you need help to fall asleep.
Melatonin capsules can be used as a long term or short term sleep aid in acute cases, such as jet lag.


HOW DOES THE PRODUCT HELP ME TO SUPPORT MY MENTAL PERFORMANCE?
Optimising sleep is one of the most effective levers for improving your mental performance. During the sleep process that our brain controls, our bodies recover and our batteries are recharged for the next day.
Learned knowledge is processed and new synapses are made. Studies prove that restful sleep is a prerequisite for mental peak performance the next day. However, sleep quality and not duration is the crucial factor.
Improving sleep quality has therefore been part of top athletes training for years. BRAINEFFECT SLEEP with melatonin helps you to fall asleep faster, so that you can start the next morning at full mental capacity.


IS THE PRODUCT SAFE AND CAN I TAKE IT EVERY DAY?
Yes, melatonin is 100 % safe and can be taken daily. 1 mg of melatonin corresponds to the content of 62 pistachios.
Unlike chemical sleep aids, it is not addictive and cannot be overdosed on. In other European countries and in the US, melatonin has been available as a gentle sleep aid for years and has been used millions of times by athletes, office professionals, and everyday heroes to fall asleep faster. In combination with our natural plant extracts, you can now finally participate in the sleep revolution in Germany too.


WHICH INGREDIENTS DO BRAINEFFECT SLEEP MELATONIN CAPSULES CONTAIN?
The most important ingredient of SLEEP Melatonin capsules is the sleep hormone melatonin. But BRAINEFFECT SLEEP contains so many more.
Lemon balm and passion flowers have been known for centuries, not only because they have a pleasant taste.
The mineral magnesium promotes your muscle function. Last but not least, black pepper as a so-called bioenhancer ensures that you absorb all the active ingredients quickly.


HOW ARE BRAINEFFECT SLEEP MELATONIN CAPSULES DOSED?
The dosage of melatonin is very simple. One capsule contains 0.5 mg melatonin. This means by taking only two capsules, you will usually reach the normally recommended daily dose of 1 mg melatonin quickly.


WHAT SHOULD I TAKE IN CONSIDERATION WHILE TAKING THE SLEEP MELATONIN CAPSULES?
If you don't get to the necessary level in a natural way, you can sustainably improve your falling asleep behavior by regularly supplying your body with melatonin. We advise you to take it daily for two to three weeks shortly before going to bed.
In the case of melatonin capsules, we recommend taking them with a glass of water. Food supplements containing the hormone melatonin are generally considered to be very well tolerated.
Side effects only occur in rare cases. Likewise, no habituation effects have been observed so far. The recommended daily dose of melatonin is between 1 and 5 mg.
How strong of an effect melatonin has varies from person to person and thus cannot be predicted. Therefore, it is best to start with a low dose of 0.5 - 1 mg and increase the amount gradually if you do not experience any effect at all. In case of doubt consult a pharmacist to get advice.
CAN I USE THE PRODUCT AS ANTI JETLAG PREPARATION?
Yes, with melatonin SLEEP is one of the most effective jetlag preparations and can help you to reduce the negative feelings of jet lag and quickly adjust to the time zone. This is why athletes use our product before competitions, as well as business travellers and globetrotters.
The positive effect sets in when our product is taken on the first day of travel just before bedtime and on the first day of arrival at the destination.
In this way, your sleep rhythm, which is largely determined by melatonin, adjusts to the new time zone. Taking melatonin makes you tired and reduces the time it takes to fall asleep. The result: Start the next day fully rested and energised!


WHY IS MELATONIN OTHERWISE NOT AVAILABLE IN GERMANY?
Until recently, Germany was one of the few EU countries where melatonin was not available. This has changed with a new jurisprudence and that is a good thing.
Because what can be consumed in a normal diet should never be a medication.


HOW ELSE CAN I IMPROVE MY SLEEP?
SLEEP helps you to reduce the time it takes to fall asleep. To optimise your time to fall asleep, you should however take note of several simple tips that can affect your melatonin levels.
In general: the more stable and higher your melatonin levels, the faster you fall asleep.
The right food, no blue light in the evening, the right sleeping temperature, and a natural day/night cycle are important factors. You can find concrete tips on how to optimise your sleep here.


WHAT IS THE DIFFERENCE BETWEEN BRAINEFFECT SLEEP MELATONIN CAPSULES AND OTHER MELATONIN PRODUCTS?
There are currently many products on the market that are advertised with a sleep-promoting effect. These advantages await you with the BRAINEFFECT SLEEP melatonin capsules:
Simple and fast: just 2 capsules are enough to supply your body with 1 mg of melatonin.
Holistic approach: contains magnesium for your muscles and further valuable ingredients.
High bioavailability: SLEEP melatonin capsules are enriched with piperine (black pepper) which acts as a bio enhancer. It ensures that your body absorbs all ingredients faster. 
Vegan: The melatonin supplement does not contain any animal ingredient and is therefore suitable for all diets. 
Without sweeteners: the capsules do not attack your tooth enamel. After brushing your teeth you can take the SLEEP capsules without any issues.  


WHAT MAY REQUIRE ADDTIONAL MELATONIN INTAKE?
Melatonin is a hormone that your body produce in the evening hours to relax and prepare for the nightly rest phase. If your melatonin level is permanently or acutely too low for a restful sleep, an additional intake of melatonin may be recommended. The risk of you producing too little melatonin is increased if you:
... work with your computer: The light from laptops, mobile phones, tablets and the like has a high blue component. It reduces the production of melatonin.
... are travelling: long air journeys, especially changing time zones, disrupt your sleep-wake rhythm. Then help is often needed to make more of your journey.
... you always working flat out: When your workload and physical exertion are high, it is more difficult for your organism to rest.
... work at night or in the dark: A lack of daylight over a longer period of time can disrupt your sleep habits. Wir sind von unserem Produkt überzeugt! Trotzdem gibt es noch weitere Stellschrauben, die deinen Schlaf und deine Recovery verbessern.
More Information

| | |
| --- | --- |
| Pre-sale | No |
| Inhalt | Content: 60 capsules (35 g) |
| Grundpreis Angabe | EUR 69,17 / 100 g |
| Dosage form | Capsules |
| Diets | Gluten-free, Ketogenic, Lactose-free, Low Carb, Vegan, Vegetarian |
| Your goals | Sleep & Recovery |
| Delivery Time | 2-3 days |