MCT oil with Omega-7 power
Palm oil free MCT-oil made from coconuts
High-quality fatty acid combination from C8 & Omega-7
For your summer body
Delivery time: 3-6 days within Europe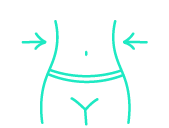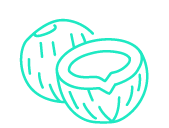 MCT made from
100% coconut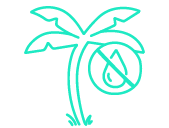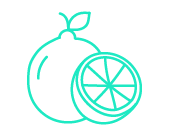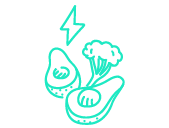 YOUR GREEN SUPERPOWER OIL
Much more than just MCT-oil - with your extra portion of Omega-7
Do you think fat makes you fat and is just unhealthy? This is only the half truth. If correctly dosed, unsaturated fatty acids are even vital and keep you full longer than short-chain carbohydrates, such as common sugar.
In our ROCKET C8 OMEGA we combine two types of fats. The basis is our popular high-quality MCT-oil made from 100% caprylic acid C8 from pure coconuts. The whole thing is combined with the unsaturated fatty acid Omega-7. Together they are perfect as energy suppliers for the ketogenic diet.
Summery lime flavour
We asked ourselves how do we take MCT-oil to the next level? We wanted an MCT oil that could do more than just provide keto power. This is how we came up with the highly underestimated unsaturated fatty acid Omega-7, which is involved in your fat metabolism.
To make ROCKET C8 OMEGA even more suitable for everyday use, we have given it a subtle lime flavour. In this way, you will not only refine your salad dressings, smoothies or shakes but you will also provide yourself with important fatty acids.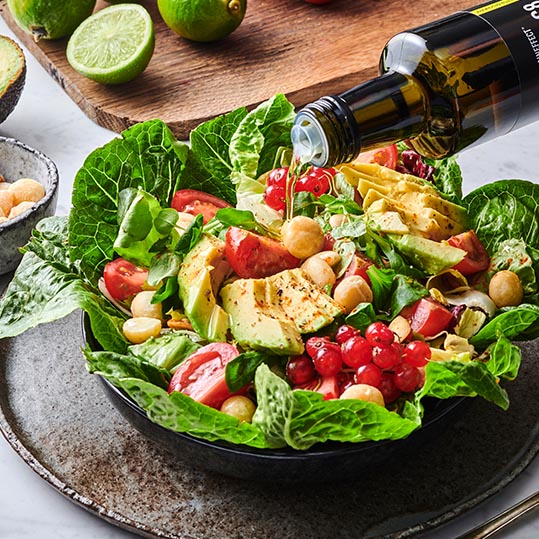 MCT oil mit caprylic acid und Omega 7 fatty acids
ROCKET C8 OMEGA contains: 85 % MCT oil from coconut oil (medium-chain triglycerides from coconut; composition of saturated fatty acids: 100 % caprylic acid), 7 % macadamia oil, 7 % avocado oil, lime oil
Net filling quantity: 500 ml
Nutritional values
| | | |
| --- | --- | --- |
| Nutritional values | per 100 ml | per 15 ml |
| Energy (kJ/kcal) | 3460 /827 | 519 / 124 |
| Fat (g) | 93 | 14 |
| - thereof saturated fatty acids | 87 | 13 |
| Carbohydrates (g) | 0 | 0 |
| - thereof sugar (g) | 0 | 0 |
| Fibre (g) | 0 | 0 |
| Protein (g) | 0 | 0 |
| Salt (g) | 0 | 0 |
Ingredients ROCKET C8 OMEGA
| | | |
| --- | --- | --- |
| Ingredients | per 100 ml | per 15 ml |
| Palmitoleic acid | 1467 mg | 220 mg |
Dosage:
Daily or as required, take 1 tablespoon (15 ml) pure, in salad dressings or smoothie.
Storage:
Make sure that you always store the product dry and cool.
Our tip:
You want to give your salad dressing or smoothie the extra fat boost? Then you just have to add 1 tablespoons (approx. 15 ml) and mix all the ingredients carefully. Whether in the morning or afternoon, get your keto power whenever you need it.
Note:
Food supplements do not replace a balanced and varied diet or a healthy lifestyle. Consume no more than the recommended daily intake. Keep out of the reach of children.
WHO IS ROCKET C8 OMEGA SUITABLE FOR?
You don't feel like carbs and prefer fat as performance fuel? Do you just want to try if you can do it with fewer carbohydrates? The ROCKET C8 OMEGA is made right for you! Its sophisticated formula gives you valuable C8 fatty acids that give you the energy kick you need to grow beyond your limits and become the best version of yourself.
HOW DO I USE THE ROCKET C8 OMEGA?
Our MCT oil, enriched with macadamia and avocado oil, is your performance ketone booster for every day. Thanks to its lime flavor, it gives your smoothie in the morning or salad dressing in the afternoon a fruity and exotic note and provides you with the energy you need to stay full of energy. So you keep the focus on the essentials. Just enjoy 1 tbsp pure a day or add it to your favorite dish!
WHY AM I NOT GAINING WEIGHT FROM ROCKET C8 OMEGA?
To achieve all your goals, you need enough energy that you get from macros such as proteins, carbohydrates, and fat. They differ, among other things, in their energy density and are metabolized differently by your body. We rely on pure fat as a performance fuel! Why? You don't have sugar crashes and stay full for longer. And if your total calories are right, fat alone doesn't make you fat.
More Information

| | |
| --- | --- |
| Inhalt | Content: 500 ml |
| Grundpreis Angabe | EUR 59,80 / 1L |
| DOSAGE FORM | Oils & Sprays |
| DIETS | Gluten-free, Ketogenic, Lactose-free, Low Carb, Vegan, Vegetarian |
| YOUR GOALS | Energy |
| Bestellung ab Donnerstag 10 Uhr bis Montag 16 Uhr | 2-3 days |
| Lieferzeit | 2-3 days |