Work-life-balance in a capsule
Vit C against oxidative stress & Vit B12 for your psychological function
With Vitamin D & L-Tryptophan

100 % natural and vegan
Delivery time: 3-6 days within Europe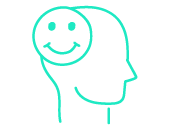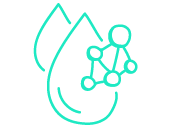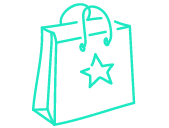 Our customer`s
favorite product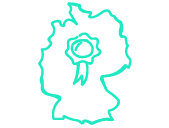 Developed and tested
in Germany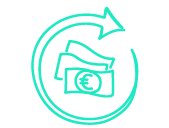 GOOD MOOD IS OUR AMBITION
Put yourself in a Good MOOD
Your mood affects the course of your day. That's why we have developed the special MOOD "all-in-one" formula, which contains all the building blocks that your body can use to produce serotonin.
Serotonin is a major neurotransmitter in the brain and is also known as the happiness hormone. A precursor to serotonin, the amino acid L-tryptophan, is also an important component of MOOD. MOOD - the all-rounder
The special active ingredient formula of MOOD is rounded off by 20 ingredients. These include vitamin B5 for performance, iron for cognitive functions such as memory, concentration and learning capacity, zinc for cell division and vitamin B12 for maintaining the functionality of the nervous system and to reduce tiredness.
MOOD also contains vitamin D3, the sun vitamin, to protect your immune system and vitamin C against oxidative stress. In this way you are supplied with the best nutrients every day.
Nutritional supplement with L-tryptophan, vitamins, minerals and plant extracts (90 capsules per pack)
MOOD contains:L-tryptophan, coating agent: hydroxypropylmethylcellulose (vegetable capsule shell), caterpillar fungus extract (cordyceps sinensis), rose root extract (Rhodiola rosea), green tea extract (camellia sinensis), magnesium, vitamin K2 (MK-7 trans), coenzyme Q10, linseed Extract (linum usitatissimum),Thiamine (Vitamin B1), turmeric root extract (curcuma longa), vitamin B6, vitamin D3, vitamin C, zinc, pantothenic acid (vitamin B5), niacin (vitamin B3), black pepper extract (piper nigrum), iron, folic acid, vitamin B12 (methylcobalamin), thiamin (Vitamin B1), tumeric extract (curcuma longa), vitamin B6, vitamin D3, vitamin C, zinc, pantothenic acid (vitamin B5), niacin (Vitamin B3), black pepper extract (piper nigrum), iron, folic acid, vitamin B12 (methylcobalamin)
Ingredients MOOD
Ingredients
per 3 capsules
(daily dose)
% NRV*

L-tryptophan

480 mg

**

Cordyceps extract

240 mg

**

Rhodiola extract

180 mg

**

Green tea extract

75 mg

**

Flaxseed extract

45 mg

**

Black pepper extract

7.5 mg

**

- of which piperin

7.1 mg

**

Coenzyme Q10

60 mg

**

Thiamin (vitamin B1)

23 mg

2090 %

Vitamin B6

20 mg

1429 %

Vitamin C

20 mg

25 %

Pantothenic acid (vitamin B5)

12 mg

200 %

Niacin (vitamin B3)

10 mg

63 %

Folic acid (vitamin B9)

300 µg

150 %

Vitamin K2

150 µg

200 %

Vitamin D

60 µg

1200 %

Vitamin B12

7.5 µg

300 %

Zinc

4.5 mg

45 %

Iron

0.3 mg

2,1 %

Magnesium

18 mg

4,8 %
* Percentages for nutrient reference values (NRV) according to Regulation (EU) No 1169/2011 (8400 kJ/2000 kcal)
** No nutrient reference values (NRV) available  
Dosage:
For a good start into the day, take 3 capsules every morning unchewed with liquid.
Usage & effective period:
MOOD should be used daily. 3 capsules contains the optimal daily dose. One monthly pack of MOOD contains 90 capsules. To support the serotonin production, the product should be taken for at least 20 days.
Our tip:
MOOD is ideally complemented by SLEEP with the natural sleep hormone melatonin in it, which promotes falling asleep faster and is optimally balanced by the ingredients. You can take MOOD with you wherever you go.
Note:
Dietary supplements are not intended to be used as a substitute for a balanced and varied diet as well as a healthy lifestyle. The recommended daily dose should not be exceeded. Nor recommended for children, pregnant as well as breastfeeding women. Keep out of reach of children.
HOW DOES THE PRODUCT SUPPORT MY WELL-BEING?
The hormone serotonin is responsible for our well-being and influences our creativity and mental performance. It can only be independently produced by the body.
MOOD supports your brain in the formation of serotonin by providing high concentrations of all relevant nutrients e. g. vitamin D and L-tryptophane. Our high-dose, herbal vitamin D ensures that office professionals get enough vitamin D even in winter, thereby support their well-being.


HOW MUCH VITAMIN D DOES THE PRODUCT CONTAIN?
The product contains 60 micrograms, equivalent to 2400 IU of plant-based vitamin D. According to a study commissioned by the Federal Government, more than 55% of the population suffer from a vitamin D deficiency.
When the body lacks vitamin D, which is normally formed under the skin in sunlight, the result is a general feeling of unwellness or even the famous "winter blues". It is therefore generally advised to take a vitamin D supplement especially in winter
CAN I TAKE THIS PRODUCT DAILY?
Yes, absolutely. You should definitely take the product every day in order to obtain the best possible effect. After about 20 days of taking it daily, you should see an effect. Please keep in mind that we are all individuals and therefore ingredients can have different effects.
You performance is supported by vitamin B5, zinc contributes to maintaining your cognitive function and proliferation as well as vitamin B12 which counteracts fatigue.


IS THE PRODUCT 100 % VEGAN?
MOOD ist zu 100 % vegan. Sogar Vitamin D, Vitamin K2 sowie Omega 3 werden von uns aus veganen Quellen bezogen, auch wenn diese deutlich teurer sind. Unser Ziel: Alle Kunden, egal welche Ernährungsform sie gewählt haben, sollen unsere Produkte nutzen können und so ihre mentalen Ziele erreichen.
More Information

| | |
| --- | --- |
| Geld-Zurück-Garantie Satz | with money-back guarantee |
| Inhalt | Content: 90 capsules (51 g) |
| Grundpreis Angabe | EUR 78,24 / 100 g |
| DOSAGE FORM | Capsules |
| DIETS | Gluten-free, Ketogenic, Lactose-free, Low Carb, Vegan, Vegetarian |
| YOUR GOALS | Well-Being |
| Bestellung ab Donnerstag 10 Uhr bis Montag 16 Uhr | 2-3 days |
| Lieferzeit | 2-3 days |