For a good gut feeling
Fruity drinking powder with 9 billion living bacteria cultures

Vitamin B6 to regulate hormone activity

Vitamin B12 for your immune system
Delivery time: 3-6 days within Europe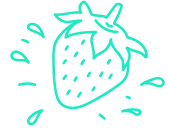 Fruity fresh
strawberry taste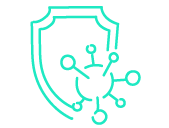 Immune support
with vitamin B12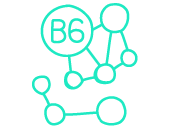 Vitamin B6 for
your hormone activity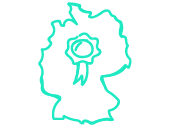 Developed and tested
in Germany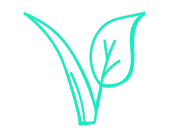 Goes through the gut, stays in the brain
Our gut is home of more than 100 million nerve cells acting as control centre which is why it is also referred to as "second brain". 90% of the information exchange between gut and brain originates from the centre of the body.
For example, did you know that the happiness hormone serotonin is predominantly produced in the gut and not the brain? 95% of the endogenous happiness booster stem from the gastro-intestinal system.
What does that mean for you? You can take advantage of your gut feeling! With 9 billion living bacteria cultures HAPPY GUT supports not only your digestion but also wellbeing. Simply stir in water in the morning and enjoy the fruity taste. #YouGutToBeHappy!
In comparison to conventional products HAPPY GUT is not only a synbiotic with living gut bacteria and essential dietary fibre but additionally contains important vitamins. With vitamin B6 the berry drink regulates your hormone activity whilst vitamin B12 contributes to the normal function of your immune system. Dietary supplement with vitamins, bacterial strains and sweeteners (90 g per can)
HAPPY GUT contains: Nutriose (fibre from corn), strawberry fruit powder, sweetener: steviol glycosides (from stevia); vitamin B6, thiamine, vitamin B12, Bifidobacterium infantis, Bifidobacterium animalis lactis, Bifidobacterium longum, Lactobacillus breve, Lactobacillus casei, Lactobacillus fermentum, Lactobacillus helveticus, Lactobacillus rhamnosus, Lactobacillus salivarius.
Ingredients HAPPY GUT
| | | |
| --- | --- | --- |
| Ingredients | per 3 g (daily dose) | % NRV* |
| Lactobacillus | 6 bn cfu*** | ** |
| Bifidobacterium | 3 bn cfu*** | ** |
| Vitamin B6 | 0.70 mg | 50 % |
| Thiamin | 0.55 mg | 50 % |
| Vitamin B12 | 1.25 μg | 50 % |
* Percent Nutrient Reference Value (NRV) according to regulation (EU) Nr. 1169/2011
** No Nutrient Reference Value (NRV) available
*** Colony forming units
Nutrition table HAPPY GUT
Nutritional value
per 100 g
per 3 g (% ***)

Energy (kJ/kcal)

1131 / 270

34 / 8 (0.4 %) 

Fat (g)

1.4

<0,5 (<0.7 %)

- of which saturated fatty acids

 (g)

<0.1

<0.1 (<0.5 %)

Carbohydrates (g)

29

0.9 (0.3 %)

- of which sugar (g)

5.1

<0.5 (<0.6 %)

Dietary fibre (g)

52

1.6 (**)

Protein (g)

2.5

<0.5 (<1 %)

Salt (g)

0.07

<0.01 (<0.2 %)
* Percent Nutrient Reference Value (NRV) according to regulation (EU) Nr. 1169/2011
** No Nutrient Reference Value (NRV) available
Dosage:
Stir 1 teaspoon of powder (3 g = daily dose) in 100 ml water, your smoothie, yoghurt or cereals every morning.


Storage:
Use within 3 months after opening. Store dry, cool and light-protected.
Note:
Food supplements do not replace a balanced and varied diet or a healthy lifestyle. Consume no more than the recommended daily intake. Not suitable for children, pregnant and breastfeeding women. Keep out of reach of children.
HOW DOES HAPPY GUT WORK?

HAPPY GUT contains 9 billion living bacteria cultures which support your gut and digestion. On top vitamin B6 regulates your hormone activity and vitamin B12 contributes to a normal function of your immune system.


WHAT MAKES HAPPY GUT SO SPECIAL?

HAPPY GUT is a so called synbiotic, respectively a combination of a prebiotic as well as a probiotic. Hence, it does not only contain living gut bacteria but also "feed" for the microorganisms. Pretty smart right?
CAN I COMBINE GUARD WITH HAPPY GUT AND HOW ARE THEY DIFFERENT?

Yes, you can. In total you would ingest 21 billion living bacteria per day. Many products on the market contain such high doses of living bacteria especially the ones which are recommended after taking antibiotics. In case you want to combine GUARD and HAPPY GUT start with taking one capsule GUARD per day. This way you will be able to rule out any intolerance and start taking the recommended daily dose of both GUARD and HAPPY GUT. The minerals calcium and iron of GUARD support you in times you need extra focus. In comparison HAPPY GUT is characterised by a general soothing effect on the body. It tackles the centre of the body and increases wellbeing.


CAN I ALSO TAKE HAPPY GUT DURING ANOTHER TIME OF THE DAY?

HAPPY GUT works best on an empty stomach and is especially suitable for taking at breakfast in your smoothie, a tasty bowl or on its own as fruity strawberry drink.
More Information

| | |
| --- | --- |
| Geld-Zurück-Garantie Satz | with money-back guarantee |
| Inhalt | Content: 90 g (30 servings) |
| Grundpreis Angabe | EUR 38,78 / 100 g |
| DOSAGE FORM | Drinks & Drink powders |
| DIETS | Ketogenic, Lactose-free, Low Carb, Vegan, Vegetarian |
| YOUR GOALS | Well-Being |
| Bestellung ab Donnerstag 10 Uhr bis Montag 16 Uhr | 2-3 Tage |
| Lieferzeit | 2-3 Tage |