Our synbiotic with new recipe
Supports your microbiome in stressful times
20 bn. probiotic bacteria for a happy gut
Supports your digestion with calcium
Save with our bundles
Buy 2 and save

5

%
Buy 3 and save

10

%
Delivery time: 3-6 days within Europe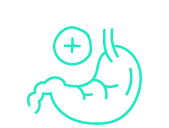 Calcium supports
your digestive enzymes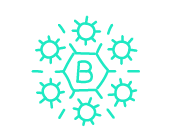 Vitamin B6 & B12
for your immune system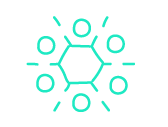 Niacin to preserve
healthy mucosae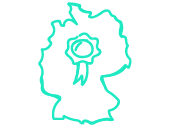 Developed & tested
in Germany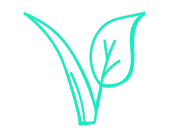 YOUR DAILY WELLBEING STARTS IN THE GUT
Synbiotic for your gut flora
Did you know that your gut is not only responsible for micronutrient intake but also is home to 100 trillion gut bacteria? They all influence your health, are required for the production of happiness hormones and are responsible for 70 % of your immune defence.

Your daily mental wellbeing starts with a healthy gut. To be able to function properly day in and day out it requires some basics. This is why we developed ESSENTIALS GUARD. With 20 trillion living bacteria cultures it supports a healthy gut function, calcium ensures a smooth working of digestive enzymes and it contains especially well digestible fibre as optimal nutrient source for your gut flora. Say ciao to digestive issues as well as a bad gut feeling and from now on give your gut what it needs.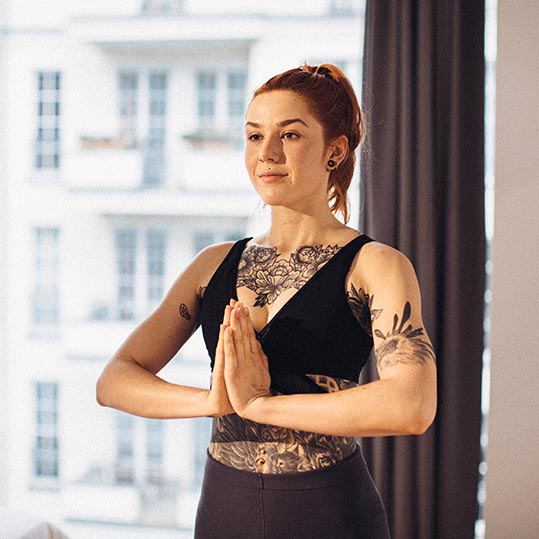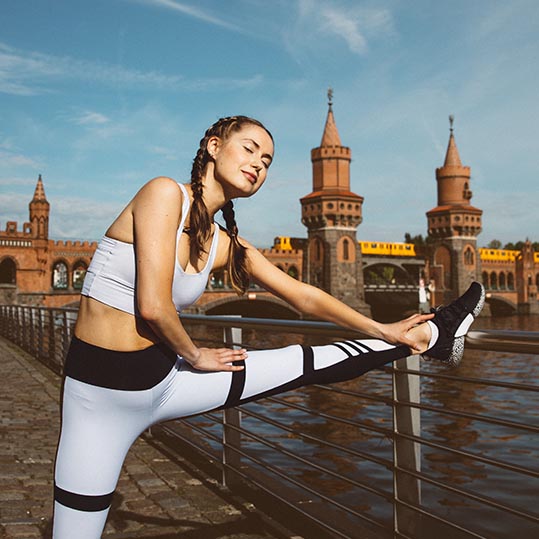 Bac(k)s to the future!
We mean that literally! You cannot imagine a single day without our top seller GUARD? We feel you! For you we did not only make it part of our ESSENTIALS line but also brought our gut hero to the next level with a modified recipe: an additional 7 trillion bacteria cultures, 8 trillion new bacteria strains, more digestible fibre from acacia fibres as well as nutriose and niacin on top for the preservation of your mucosae. In case you were a fan of GUARD, you will love ESSENTIALS GUARD!
Dietary supplement with vitamins, minerals and bacterial strains (60 capsules per pack)
ESSENTIALS GUARD contains: calcium carbonate, acacia fiber powder, dextrin (nutriose), hydroxypropylmethylcellulose (vegetable capsule shell), lactobacillus crispatus, nicotinamide, lactobacillus plantarum, lactobacillus acidophilus, lactobacillus rhamnosus, bifidobacterium longum, bifidobacterium breve, bifidobacterium bifidum, bifidobacterium lactis, lactobacillus casei, bifidobacterium infantis, streptococcus thermophilus, lactobacillus helveticus, lactococcus lactis, lactobacillus gasseri, bifidobacterium adolescentis, lactobacillus paracasei, bacillus coagulans, enterococcus faecium, lactobacillus reuteri, lactobacillus salivarius, vitamin B6, folic acid, vitamin B12.
Ingredients ESSENTIALS GUARD
Nutrients and
further ingredients
per 2 capsules
(daily dose)
% NRV*

Lactobacillus

10.0 tn. CFU

**

Bifidobacterium

6.0 tn. CFU

**

Streptococcus

1.0 tn. CFU

**

Lactococcus

1.0 tn. CFU

**

Enterococcus

1.0 tn. CFU

**

Bacillus

1.0 tn. CFU

**

Calcium

200 mg

25 %

Niacin

16 mg

100 %

Vitamin B6

1.4 mg

100 %

Folic acid

200 μg

100 %

Vitamin B12

2.5 μg

100 %
* Percentages for nutrient reference values (NRV) according to Regulation (EU) No 1169/2011
** No nutrient reference values (NRV) available
Dosage:
Take 2 capsules daily (morning or evening) whole with meals and water.
Storage:
Store in a cool, dry and dark place.
Note:
Dietary supplements are not intended to be used as a substitute for a balanced and varied diet as well as a healthy lifestyle. The recommended daily dose should not be exceeded. Keep out of reach of children. Not recommended for pregnant and nursing women.   

Forgo the consumption of further supplements containing folic acids. 
WHATS THE DIFFERENCE COMPARED TO THE PREDECESSOR?

GUARD was already good - but we wanted to make it even better. This is why we did not only increase the amount of gut bacteria by 7 tn. but also added 8 bacteria strains. Why? It is assumed that a diverse gut flora has positive effects on general health. In contrast disease risk is high in case of too little gut bacteria diversity. Hence it makes sense to support your gut flora out in this regard. But that is not all! Besides B6, B12 and folic acid we also upgraded our new gut hero with niacin, also known as vitamin B3, to support the preservation of normal mucosae. Finally, we replaced the dietary fibre inulin and oligofructose with the better digestible dietary fibres nutriose and acacia fibre powder. This way our rookie definitely deserved its promotion to an ESSENTIAL.  


IS THE PRODUCT VEGAN?
GUARD is a vegan product. The capsule shell is also a vegetable capsule shell which consists of hydroxypropylmethylcellulose and is therefore vegan.
The capsules are enteric coated and ensure that the bacteria are protected and are not destroyed before arriving at their destination.
HOW DOES ESSENTIALS GUARD WORK?

ESSENTIALS GUARD is a synbiotioc and contains 20 tn. bacteria cultures as well as calcium to support digestive enzymes with their work. For example, some of the bacteria strains in ESSENTIALS GUARD enable the repair function of the bowel mucosa in case it gets leaky and has to be reconstructed. Besides ESSENTIALS GUAD aims at your wellbeing with different bacteria strains supporting the so called tryptophan metabolism which builds the happiness hormone serotonin. These small happier do not only result in general wellbeing but also positive mood and motivation.  Furthermore, the vitamins B6 & B12 are important cofactors in the synthesis of serotonin. 


CAN I USE GUARD TO REBUILD MY INTESTINAL FLORA AFTER TAKING ANTIBIOTICS?

Doctors like to prescribe probiotic capsules after an antibiotic treatment because the treatment can be an enormous burden for the intestine and the intestinal flora can be damaged.
But before you decide how often and how much you use ESSENTIALS GUARD to rebuild your intestinal flora after an antibiotic treatment, it is advised to check-in with your doctor first.
More Information

| | |
| --- | --- |
| Primary Badge | Bestseller |
| Inhalt | Inhalt: 60 Kapseln (43g) |
| Grundpreis Angabe | EUR 579,07/1kg |
| Delivery Time | 2-3 Tage |
| Dosage form | Capsules |
| Diets | Gluten-free, Lactose-free, Low Carb, Vegan, Vegetarian |
| Your goals | Well-Being |