Supports your gut with extra calcuium
With 13 billion living bacterial cultures
Calcium for the normal function of digestive enzymes
Vitamin B6 & B12 for the immune system
Delivery time: 3-6 days within Europe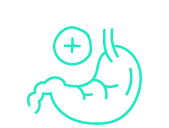 Calcium for 
your digestion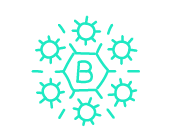 Vitamin B6 & B12 for
your immune system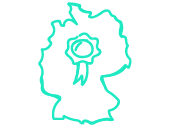 Developed & tested 
in Germany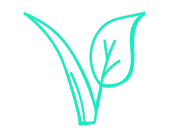 Our gut, the "second brain"
Did you know that your gut not only ensure that nutrients from food get where they are needed? It's also home to 100 trillion gut bacteria, all of which affect your health!
The health of our gut therefore has a major impact on our well-being, but it can quickly become unbalanced through stress and a monotonous diet. This is where GUARD comes into play.
Optimal support with GUARD
In addition to 13 billion selected bacterial strains, GUARD also contains calcium, which supports the functions of digestive enzymes.
The iron supports your cognitive performance and vitamin B12 contributes to the normal function of your immune system. Inthis way you have your head free for the really important things in your everyday life! Nutritional supplement with vitamins and various bacterial strains (60 capsules per pack)
GUARD contains: hydroxypropylmethylcellulose (vegetable capsule shell), iron, inulin (from chicory), oligofructose, lactobacillus acidophilus, bifidobacterium infantis, bifidobacterium longum, lactobacillus helveticus, streptococcus thermophilus, lactobacillus rhamnosus, bifidobacterium adolescentis, bifidobacterium bifidum, lactococcus lactis, lactobacillus casei, bifidobacterium breve, bifidobacterium lactis, vitamin B6, folic acid (vitamin B9), vitamin B12 (methylcobalamin)
Ingredients GUARD
Ingredients
per 2 capsules
(daily dose)
% NRV*

Bifidobacterium

6,5 Mrd. KbE

**

Lactobacillus

4,5 Mrd. KbE

**

Streptococcus

1,0 Mrd KbE

**

Calcium

176 mg

22 %

Iron

14 mg

100 %

Vitamin B6

2 mg

143 %

Folic acid

150 μg

75 %

Vitamin B12

2,0 μg

80 %
* Percentages for nutrient reference values (NRV) according to Regulation (EU) No 1169/2011 (8400 kJ/2000 kcal)
** No nutrient reference values (NRV) available  
Dosage:
Take 2 capsules daily (morning or evening) whole with meals and water.
Storage:
Store in a cool, dry and dark place.
Note: food supplements do not replace a balanced and varied diet or a healthy lifestyle. Consume no more than the recommended daily intake. Keep out of the reach of children.
HOW DOES GUARD WORK EXACTLY?
GUARD contains prebiotics and 13 billion probiotic bacterial cultures from 12 carefully selected bacterial strains, which helps the intestine, especially in challenging times.
In addition, GUARD also aims to support well-being through the synthesis of key neurotransmitters such as serotonin. GUARD is also enriched with bacterial strains such as Lactococcus lactis, Lactobacillus acidophilus, Bifidobacterium bifidum, and Bifidobacterium lactis.


IS THE PRODUCT VEGAN?
GUARD is a vegan product. The capsule shell is also a vegetable capsule shell which consists of hydroxypropylmethylcellulose and is therefore vegan.
The capsules are entericcoated and ensure that the bacteria are protected
ARE THERE KNOWN SIDE EFFECTS?
GUARD is a high-dose product. As probiotic microorganisms, we sometimes use micro-encapsulated bacterial mixtures that have a positive effect on the intestine. The prebiotics inulin and oligofructose have been added to support them, which act as food for the intestinal bacteria and are degraded by them into acids and gases. This process can sometimes lead to abdominal pain and flatulence.
IIn this case, we recommend taking half the dose (one capsule) for the time being and increasing it to two capsules only after several days of use if no intolerance has been observed after taking one capsule.


CAN I USE GUARD TO REBUILD MY INTESTINAL FLORA AFTER TAKING ANTIBIOTICS?
Doctors like to prescribe probiotic capsules after an antibiotic treatment, because the treatment for the intestine can often be an enormous burden and the intestinal flora can be damaged by antibiotics.
But before you decide how often and how much you use GUARD to build up your intestinal flora after antibiotic treatment, it is advisable to check with your doctor first.
More Information

| | |
| --- | --- |
| Geld-Zurück-Garantie Satz | with money-back guarantee |
| Inhalt | Content: 60 capsules (27,7 g) |
| Grundpreis Angabe | EUR 89,89 / 100 g |
| DOSAGE FORM | Capsules |
| DIETS | Gluten-free, Ketogenic, Lactose-free, Low Carb, Vegan, Vegetarian |
| YOUR GOALS | Well-Being |
| Bestellung ab Donnerstag 10 Uhr bis Montag 16 Uhr | 2-3 days |
| Lieferzeit | 2-3 days |