Catch sunshine with vitamin D3 & K2
Vitamin D3 & K2 dissolved in valuable MCT oil

Kölner Liste® product

Unflavoured, natural & vegetarian
Delivery time: 3-6 days within Europe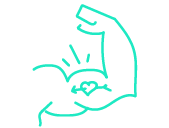 For muscles, cell division & immune system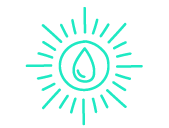 Liquid sunshine
for every day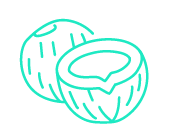 Based on high-quality
MCT oil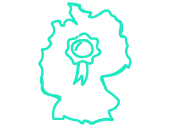 Developed and tested in Germany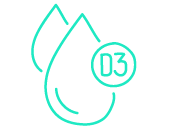 High dosage with 1.000 I.U./ 25µg Vitamin D3 per drop
Vitamin D3 - your friend and helper
Vitamin D3 contributes to the maintenance of healthy bones and teeth and to a normal muscle function.
An unbalanced diet, long working hours in the office and the use of sunscreens with a high sun protection factor can make it difficult to produce enough vitamin D.
Therefore, it makes sense to ensure that you have an adequate vitamin D intake. In these cases, our VITAMIN D3⁺OIL can provide you with valuable support.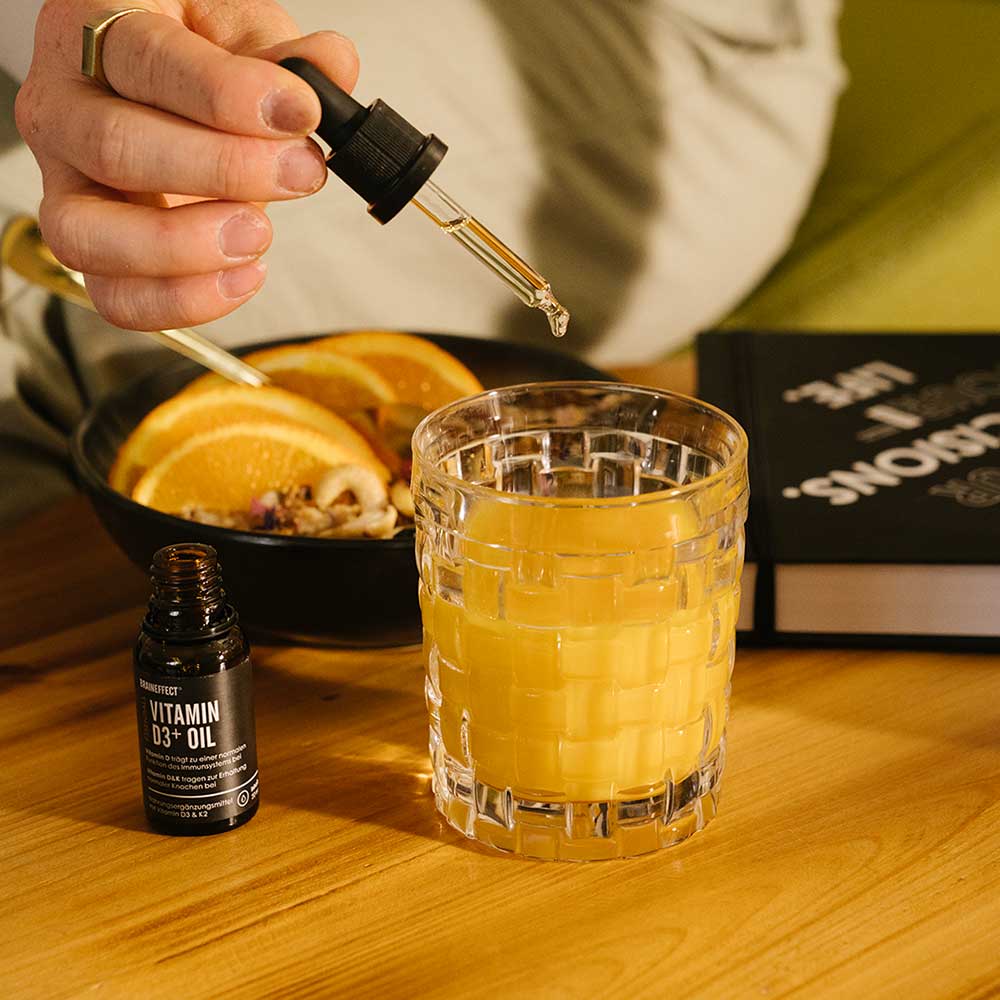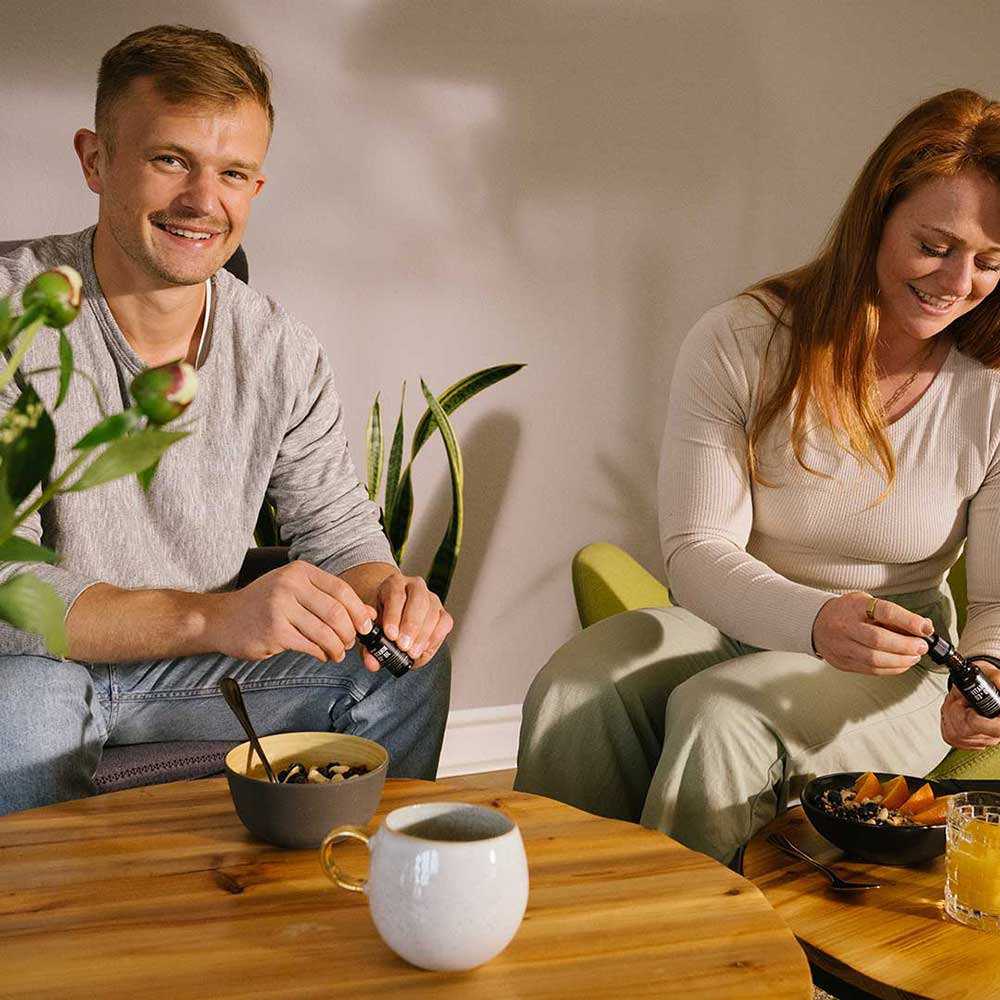 The sun vitamin
Your body can produce vitamin D3 even in the skin under the action of sun rays, more precisely UVB rays. In summer, sunbathing for 15 minutes a day is sufficient. This is why vitamin D3 is also known as the "sun vitamin".
Food, on the other hand, contains only very small amounts of this vitamin and offers little protection against a vitamin D deficit. Our VITAMIN D3⁺OIL contains the micronutrient duo of vitamin D3 and K2 as well as valuable MCT oil for optimal effectiveness of the vitamins.
Nutritional supplement with vitamin D3 and vitamin K2
ESSENTIALS VITAMIN D3+K2 contains: MCT oil, vitamin D3 (cholecalciferol), vitamin K2 (soybean oil base)
20 ml per bottle correspond to 530 drops.
Ingredients VITAMIN D3+K2
Ingredients

per drop

% RM*

MCT-Oil, coconut based

26,5 mg

**

vitamin K2 (MK-7- all-trans)

7,5 mg (11 μg
pure vitamin K2)

15 %

vitamin D3 (cholecalciferol)

0,025 mg (25 μg)

500 %
* Percentages for nutrient reference values (NRV) according to Regulation (EU) No 1169/2011
** No nutrient reference values (NRV) available


Dosage:
Just 1 drop a day is enough for your optimal vitamin D supply in summer due to the maximum concentration.
In winter, experts recommend 2-6 drops a day due to the low level of sunlight.
Since the drops are tasteless it is uncomplicated for you to reach your individual daily dose.
Combination:
For an optimal performance foundation, best combine VITAMIN D3⁺ OIL with KRILL BOOST. In addition to vitamin D, your body also needs a sufficient supply of omega 3 fatty acids as a basis for mental performance and well-being.
Our tip:
Take your daily dose pure in the morning, or jazz up your breakfast.
For example, you can make your green smoothie, fruit muesli or yogurt even better.
If you're a fan of ketogenic nutrition, then put your daily dose in your ROCKET COFFEE and it will give you the extra power of vitamin D and K.
It doesn't matter whether you take your personal dose in the morning or in the evening. You'll be flexible and well cared for around the clock.
Note:
Dietary supplements are not a substitute for a balanced and varied diet and a healthy lifestyle. Do not exceed the recommended daily intake. Keep out of the reach of children.
WHY ARE VITAMINS D AND K COMBINED?
Our VITAMIN D3⁺ OIL combines the power vitamins D and K, which are dissolved in MCT oil and then can be absorbed directly by the body. They also complement each other and support the immune system as well as your bones. Together with vitamin D, vitamin K2 forms the perfect team, supporting the absorption of calcium in the bones, teeth and muscles. It is therefore particularly important to take both vitamins at the same time to achieve a good balance.
IS THERE A DANGER OF VITAMIN OVERDOSE?
The VITAMIN D3⁺ OIL contains 25 micrograms of vitamin D3 per drop, corresponding to 1,000 IUs. If you take a sunbath plus one drop per day in the summer and increase your personal daily dose in winter to 5 drops, you will not need to worry about a vitamin overdose. Excessive vitamin D supplementation only begins to have adverse effects at a dose of 40,000 IUs daily over a long period of time.
DO I HAVE TO TAKE VITAMIN D3⁺ OIL REGULARLY?
Use of the vitamin complex is very simple. In summer, you only need a few drops, and in the winter, you increase the number of drops to support your store of vitamin D.
WHERE DO THE NATURAL INGREDIENTS OF VITAMIN D3⁺ OIL COME FROM?
VITAMIN D3⁺ OIL is suitable for vegetarians, as it is made from natural ingredients. The vitamin D3 comes from lanolin, wool grease from sheep, which is produced when the wool is washed. No animals are harmed when the wool is recovered and the wool is then processed to make other products. The pure vegetable vitamin K2 is made from the oil of the soya bean. Both vitamins are dissolved in pure MCT oil, which is obtained from coconut oil.
More Information

| | |
| --- | --- |
| Pre-sale | No |
| Geld-Zurück-Garantie Satz | with money-back guarantee |
| Inhalt | Inhalt: 20ml |
| Grundpreis Angabe | EUR 995,00/1l |
| Dosage form | Oils & Sprays |
| Diets | Gluten-free, Ketogenic, Lactose-free, Low Carb, Vegetarian |
| Your goals | Essentials |
| Delivery Time | 2-3 days |