Your fruity cocktail for every day
Meets the requirements for all essential amino acids
For all everyday heroes, athletes and vegans

1 month supply
Delivery time: 3-6 days within Europe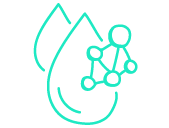 Unique, complete
amino acid profile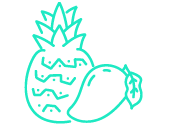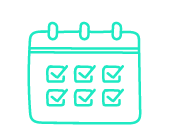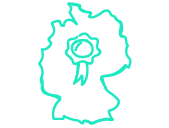 Developed and tested
in Germany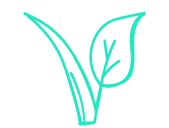 COMPLETE AMINOS
ONE DRINK. ALL AMINOS.
Activate the amino power

We have made what is known in the fitness scene as EAAs suitable for everyday use! As aminos are not only important for your muscles, but also for different hormones and metabolic processes. Therefore, the COMPLETE AMINOS contain all the amino acids recommended by the WHO in an optimal ratio. One drink, all aminos!
You eat consciously but your body doesn't react as expected? Then it's time to take a close look at your amino acid balance. These little helpers are not only useful, but above all essential. Your body will not be able to produce muscle cells, hormones and other neurotransmitters without them. If you want it to cover all these needs, you need to get all of the essential aminos through your diet.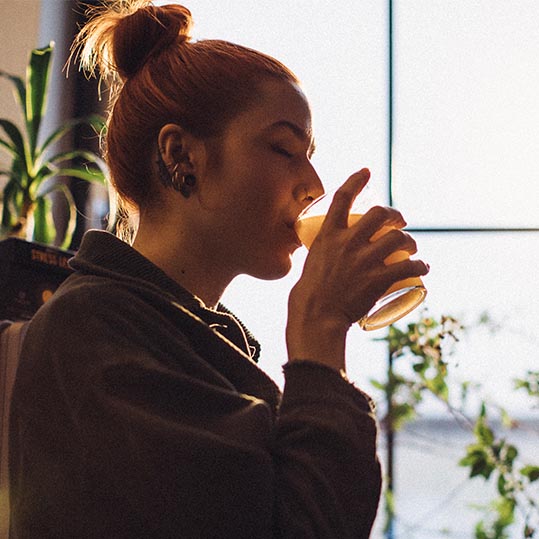 Real essentials for your everyday life

Wondering where else can you find aminos? Especially fish, meat, eggs and dairy products contain a large number of essential amino acids that your body cannot produce itself. In smaller quantities and in the form of proteins with lower biological value one can also find the little helpers in plant-based foods. So in case you you are vegan / vegetarian, have an increased protein requirement or if you just don't always eat a completely balanced diet our COMPLETE AMINOS will support you - for you and your body every single day!
Dietary supplement with amino acids and sweeteners (270 g per pack)
COMPLETE AMINOS contains: L-leucine, L-lysine hydrochloride, acidifier: citric acid; L-valine, inulin, L-isoleucine, L-threonine, L-tyrosine, L-phenylalanine, L-histidine hydrochloride, L-methionine, natural flavoring, L-cysteine hydrochloride, L-tryptophan, sweetener: steviol glycosides; coloring agent: beta-carotene


Nutrition table COMPLETE AMINOS
Nutrition table

per 100 g

per 9 g

%***

Energy value (kJ/kcal)

349/1464

132/31

1.6

Fat (g)

<0.5

<0.5

<0.7

- of which saturated fatty acids

(g)

<0.1

<0.1

<0.5

Carbohydrates (g)

3.5

0.3

0.1

- of which sugar (g)

1.9

0.2

0.2

Protein (g)

72

6.4

13

Salt (g)

0.05

<0.01

<0.17
*** Reference quantity for an average adult (8400 kJ/2000 kcal) per daily dose
Ingredients COMPLETE AMINOS
| | | |
| --- | --- | --- |
| Ingredients | per 9 g | % NRV* |
| L-leucine | 1365 mg | ** |
| L-lysine | 1050 mg | ** |
| L-valine | 910 mg | ** |
| L-isoleucine |  700 mg | ** |
| L-threonine | 525 mg | ** |
| L-phenylalanine | 438 mg | ** |
| L-tyrosine | 438 mg | ** |
| L-methionine | 385 mg | ** |
| L-histidine | 350 mg | ** |
| L-cysteine | 140 mg | ** |
| L-tryptophan | 140 mg | ** |
* Percentages for nutrient reference values (NRV) according to Regulation (EU) No 1169/2011
** No nutrient reference values (NRV) available
Dosage:
One pack contains 270 g of beverage powder, which is enough for a whole month. We recommend that you dissolve a maximum of 9 g (= 1 measuring spoon) in 400 ml of water and drink it every day.
Storage:
Make sure you always store the product dark, dry, and cool.
Our tip:
VEGAN BASICS can perfectly be combined with your COMPLETE AMINOS. The product contain all the important vitamins and nutrients that are often neglected in an animal-free diet (such as vitamins B2 and B12 as well as iron and zinc). Do you want to support your brain? Then refuel vegan omega-3 fatty acids (DHA and EPA) with VEGAN OMEGA 3. Your everyday Brain-Support!
Note:
Food supplements are not intended as a substitute for a balanced and varied diet and a healthy lifestyle. Do not exceed the stated recommended daily intake. Keep out of reach of children.
WHO IS COMPLETE AMINOS FOR?
A balanced diet is, in addition to a good night's sleep, the lever to grow beyond your capacities and to reach your full potential. Those who decide to renounce to food of animal origin should take a closer look at whether they actually absorb all the necessary performance nutrients in the required amount. Especially amino acids of which proteins are formed often come up short in a purely plant-based diet due to plant proteins being of lesser biological value compared to animal proteins. COMPLETE AMINOS are now available so that you can still have all the essential amino acids every day. Your refreshing amino supplier for every day!
WHAT ARE ESSENTIAL AMINO ACIDS? HOW DO THEY DIFFER FROM NON-ESSENTIAL AMINO ACIDS?
There are many amino acids and they are all different. Nevertheless, they can generally be divided into two classes: the essential and the non-essential amino acids. They are characterized by the fact that your body is able to produce them itself, so you don't necessarily need to ingest them with the right diet. Therefore you have to get essential amino acids from the appropriate foods that contain them. COMPLETE AMINOS combines all the essential amino acids, plus histidine, cysteine, and tyrosine in a cleverly combined formula. So you no longer need to scroll any ingredient lists and still, you are supplied with the amino acids you need..
HOW MUCH AMINO ACIDS DO COMPLETE AMINOS CONTAIN?
Each serving contains 6.4 g of amino acids, which covers 50% of your daily requirement of all essential amino acids - but by no means your full daily protein requirement. Remember: more is not always better. It is also important to consume the correct amount of essential amino acids and therefore ensure that your protein intake is optimally balanced. We have taken exactly this into account with COMPLETE AMINOS. As an amino acid product, they contain less protein than a classic protein shake, but they do contain all the essential amino acids.
WHY ARE LYSINE, METHIONINE AND CYSTEINE SO RARELY USED IN MOST AMINO ACID PRODUCTS?
Due to their chemical structure, these amino acids taste rather bad, which is why most manufacturers do not even include them to the ingredient list. Because of their importance for your performance, this was out of the question for us. We are proud to have found a special formula that includes them and tastes both fruity and refreshing after being dissolved in water.
More Information

| | |
| --- | --- |
| Inhalt | Content: 270 g |
| Grundpreis Angabe | EUR 11,07 / 100 g |
| Lieferzeit | 2-3 days |