Ketogenic energy from 65 coconuts
100% made from coconuts
Contains exclusively C8 caprylic acid
The ideal ingredient for your Bulletproof Coffee
Delivery time: 3-6 days within Europe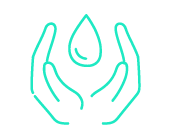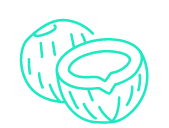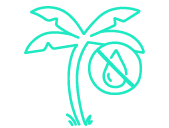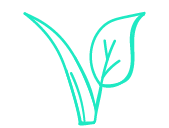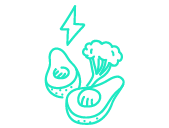 YOUR KETOGENICENERGY SOURCE
How MCT oils work
MCT oils are a ketogenic source of energy for the body. The characteristic medium-chain fatty acids in it can be converted into energy by your body. In the liver, MCTs are converted into so-called "ketone bodies", which, unlike carbohydrates, do not affect the blood sugar level¹. ROCKET C8 is the ultimate power supplier, especially when it comes to low-carb or ketogenic diets. Longer periods of exercise and thinking can be completed without hypoglycemia and that's why we suggest you what follows: drink more fat!
100% C8 from up to 65 coconuts = full quality
Are you wondering what C8 means? And what makes ROCKET C8 different from normal coconut oil? We'll tell you: coconut oil only contains a proportion of valuable MCTs, but it also consists of other fatty acids. For ROCKET C8 we only use medium-chain fatty acids - more value, more power, more benefits. Watch out though, then that's not all! Most MCT oils contain a mix of C6, C8 and C10 fatty acids. The so-called C8 caprylic acid is known as the highest quality MCT fatty acid because it can be converted particularly quickly in the body and is also tasteless. That is why we only use this particular fatty acid for our MCT oil. We wish you a lot of power with this high quality oil!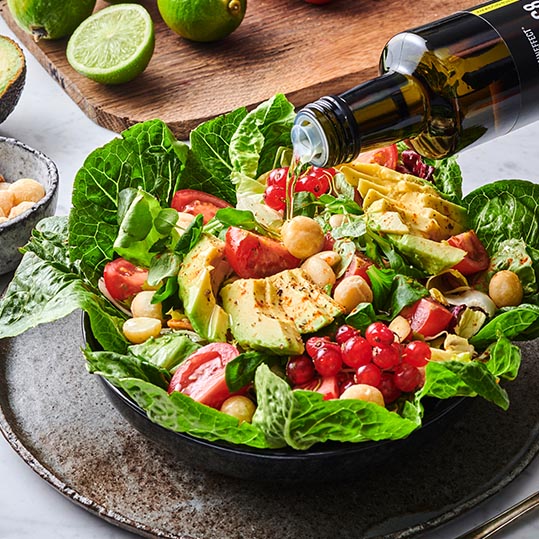 MCT-oil from 100 % caprylic acid
ROCKET C8 contains: 100 % MCT-Oil (medium-chain triglycerides from the coconut); 100 % Caprylic acid (C8)

Net filling amount: 500 ml
Net filling amount: 1000 ml
Nutrition table ROCKET C8
| | |
| --- | --- |
| Nutritional values | per 100 g |
| Energy (kJ/kCal) | 3700/900 |
| Fat (g) | 100 |
| - of which saturates (g) | 100 |
| Carbohydrates (g) | 0 |
| - of which sugars (g) | 0 |
| Fibre (g) | 0 |
| Protein (g) | 0 |
| Salt (g) | 0 |
Usage:
ROCKET C8 is tasteless and odourless and can added to many dishes and drinks. Use 1-3 tablespoons of MCT oil per day, e.g. in the morning. Start with one spoon per day and increase your intake to 2-3 tablespoons after a few weeks.
Even with short-term intake, ROCKET C8 increases the formation of ketone bodies that provide you with energy. When taken regularly, the oil supports you in a low carb diet or ketogenic diet and increases your power level.
Recipe:
ROCKET C8 is the ideal add-on to our UPGRADED ROCKET COFFEE, perfect in smoothies, shakes or salads and as a supplement in ketogenic or paleo diets. Recipes and inspiration can be found in our magazin.
WHY IS MCT OIL MADE FROM 100% OF CAPRYLIC ACID (C8)?
Caprylic acid (C8) is the highest quality MCT fatty acid and supplies your brain with pure energy. The background to this is that the C8 acid can be metabolised by the body and builds ketones (energy sources). Ketones provide our mitochondria with the necessary energy. Caprylic acid is particularly valuable for the performance of the brain, because good usability ensures that the energy in the form of ketones is very useful for the brain.
ROCKET C8 allows you to take advantage of the positive aspects of a ketogenic diet for the brain, even with a moderate intake of carbohydrates. The reason for this is that the fatty acids are converted directly to ketones. This is why C8 acid is also considered rocket fuel. Unused, ketone bodies are easily excreted through the urine.
Since coconut oil contains only 6% caprylic acid, the C8 fatty acid is very rare and expensive. It takes up to 65 coconuts to obtain 500 ml of caprylic acid. Conventional MCT oils or coconut oil is a mixture of C8 (caprylic acid) and C10 (capric acid), sometimes even C12 (lauric acid). These mixtures are a lot cheaper, because less oil is needed for the extraction of the fatty acids, and it also provides much fewer ketone bodies and thereby less energy.
Our ROCKET C8 is 100 % made out of coconuts!
FROM WHAT SOURCES IS THE OIL EXTRACTED?
ROCKET C8 consists of 100 % caprylic acid from coconuts. As we always strive for the highest quality, we pay attention to the best ingredients. No compromises! So that you grow beyond yourself with our product and become the best version of yourself.
WHY DOES ROCKET C8 PROVIDE ME WITH ENERGY?
Our brain requires about 50% of the daily energy requirement of our body. In order to produce the necessary energy in the form of ATP in our cell power stations, we need an energy base. This basic energy can either come from glucose (sugar) or from ketones. Blood sugar should be maintained at a stable level in the brain in order to maintain optimal cognitive function over a prolonged period. Sugar, unfortunately, does the exact opposite. A high sugar intake slows the activity of synapses and thus has negative effects on learning and memory. A sustained high sugar consumption can lead to a resistance to insulin. A hormone which controls both the blood sugar as well as the function of the brain cells. Our diet in the Western world that is typically very high in sugar over a prolonged period can thus lead to limitations of our cognitive abilities. The solution to this problem is the alternative source of energy in the form of ketones. The ketones, preferably formed from caprylic acid, can pass through the blood-brain barrier and is used there as an alternative premium fuel. Ketones do not affect insulin levels.
HOW CAN I BEST USE THE OIL?
Our pure C8 MCT oil develops the best effect if you take it before mental efforts with little or no carbohydrates. We have, for example, Bulletproof Coffee, a power smoothie, or a power tea you can have in the mornings for this. Simply stir 1 to 3 tablespoons of MCT oil into your drink. In the evening, you can mix the MCT oil into your good night tea. Athletes like to use our ROCKET C8 in a protein shake or improve a Greek yogurt with MCT oil. For more recipes and uses see our magazine.
WHAT PRODUCT CAN BE BEST COMBINED WITH ROCKET C8?
All our products can be used individually or as a holistic mental performance concept. ROCKET C8 can be combined with all our other products. We especially recommend using ROCKET C8 together with our FOCUS product. In this way you can support not only your energy level in the brain, but also do something for your concentration.
More Information

| | |
| --- | --- |
| Inhalt | Content: 500 ml |
| Grundpreis Angabe | 500 ml, EUR 47,80 / 1L |
| DOSAGE FORM | Oils & Sprays |
| DIETS | Gluten-free, Ketogenic, Lactose-free, Low Carb, Vegan, Vegetarian |
| YOUR GOALS | Energy |
| Lieferzeit | 2-3 Tage |